ABOUT SENDAI
Sendai city
Sendai is located north of Japan, and distance between Sendai and Tokyo is about 350km. Sendai is the capital city of Miyagi Prefecture, and the largest city in the Tōhoku (northeast) region with population ~1000000. The city was founded in 1600 by the feudal lord, whose name was Date Masamune. His nickname was One-eyed Dragon and he is a very popular load in Japan even now. His statues are often shown as riding a horse wearing a warrior's helmet with large crescent-shaped ornament. The logo of AAP2010 shows a silhouette of Masamune, watching for the Sendai city from Aoba mountain in which Tohoku University locates. More precise information is described in the following pages.
http://wikitravel.org/en/Sendai
http://en.wikipedia.org/wiki/Date_Masamune
Shopping
There is a large shopping area near HOTEL RICHFIELD (see following map). If you want to buy some souvenirs or eat some foods in Sendai, please go to the area.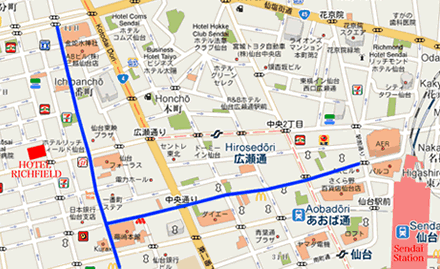 (Blue lines show the shopping streets.)
Food and Souvenir
There are famous foods in Sendai, Gyutan, Kamaboko, Haginotsuki, Zundamochi, Hoya, Sendaikko-ramen, etc..
| | | |
| --- | --- | --- |
| | | |
| | | |
| | | (Cake filled with custard) |
| | | |
| | | |
| | | |
| (Rice cake with jam of soybeans in the pod) | | |
Sightseeing
Matsushima is a group of islands and located in east 30km away from Sendai. There are some 260 tiny islands (shima) covered in pines (matsu) and is ranked as one of the Three Best Views of Japan(see this page). There is also an old temple , Zuigan-ji in Matsushima town. Zuigan-ji was originally founded in 828 by Jikaku Daishi, but was rebuilt by the feudal lord Date Masamune in 1609(see this page). It takes about 40 minutes to go to Matsushima from Sendai station by a local train(JR Senseki line, Matsushima-kaigan station).
Yamadera is also famous sightseeing spot near Sendai. Yamadera is old temple, which was built on a cliff(see this page). It takes about one hour to go to Yamadera from Sendai station by a local train(JR Senzan line, Yamadera station).
| | |
| --- | --- |
| | |
| | |
| | |
| | |
| | |
| | |